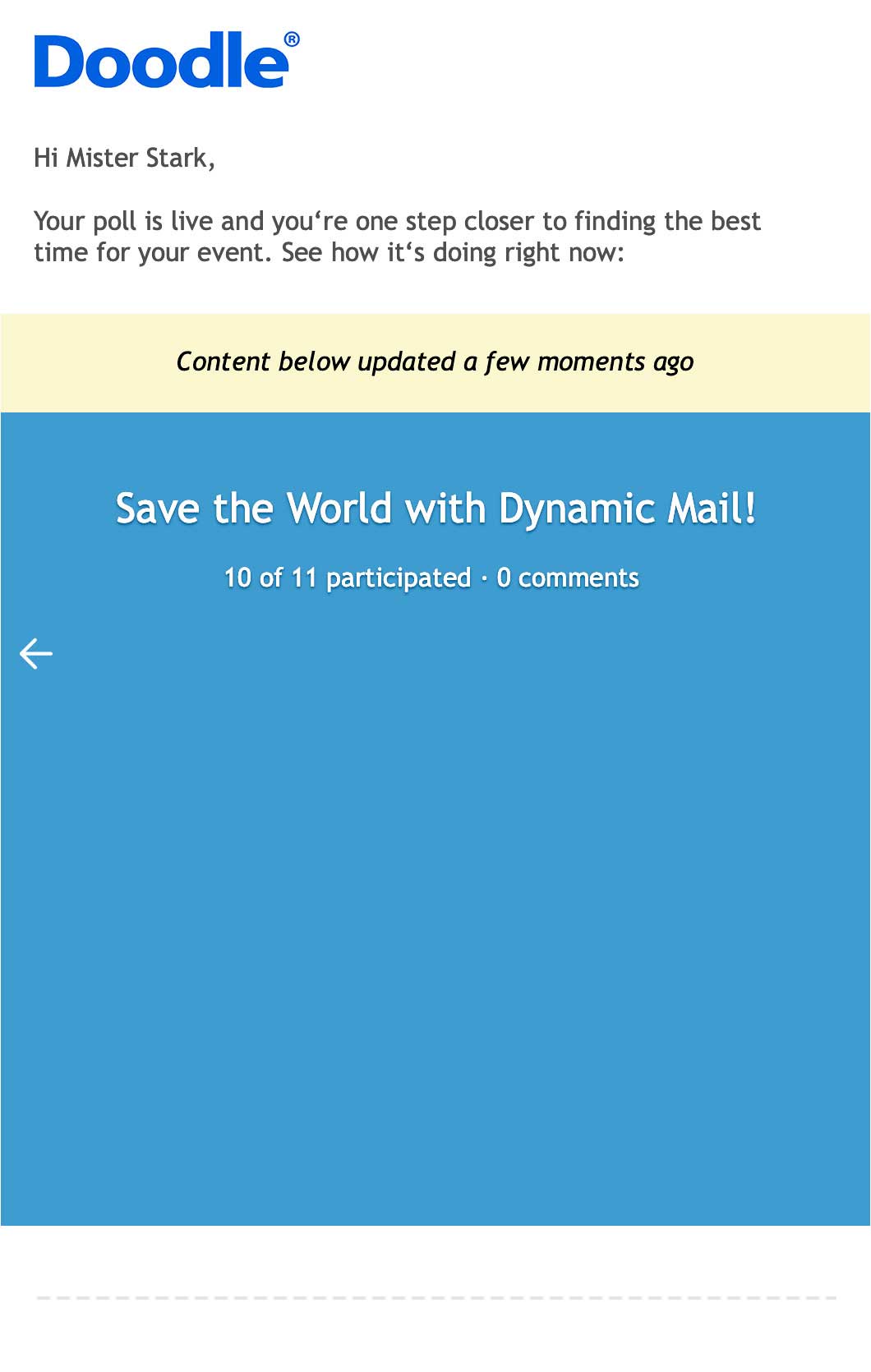 <

button


  

class

=

"false"


  

[class]

=

"clicked"


  

role

=

"button"

 

tabindex

=

"0"


  

on

=

"tap:AMP.setState({




    clicked: !clicked




  })"

>




</

button

>



AMP
电子邮件
内容参与的全新世界
AMP for email allows senders to include AMP components inside rich engaging emails, making modern app functionality available within email. The AMP email format provides a subset of AMPHTML components for use in email messages, that allows recipients of AMP emails to interact dynamically with content directly in the message.
More than 270 billion emails are sent every day, it is the pillar of many consumer and enterprise workflows. However the content that is sent in an email message is still limited – messages are static, can become out of date, and are not actionable without opening a browser. AMP email seeks to enhance and modernize the email experience through added support for dynamic content and interactivity while keeping users safe.
这是自电子邮件发明以来发生的最大事件。
Antony Malone, 在 Booking.com 上直销的资深产品负责人
电子邮件的现代应用程序功能
使用 AMP 的功能现代化电子邮件
AMP 电子邮件是对现有的快速高效的 AMP 项目的扩展。 通过前所未有的功能扩展您的业务。
支持的电子邮件客户端
这些电子邮件客户端目前支持接收 AMP 电子邮件
Increased in-mail capabilities
Senders can include AMP components inside rich, engaging emails, making them dynamic and interactive. Users can engage with content and quickly take action such as RSVP to events, fill out questionnaires and personalize their content. AMP emails are always up to date and can function like digests, with fewer clicks necessary to achieve efficient results.
Safe and secure
AMP for email has no arbitrary 3rd party features to limit security issues, and far surpasses the capabilities currently provided by third party providers. Ad components are not allowed in AMP email, keeping users safe. To maintain users' expectations of security and privacy, only a conservative subset of AMP functionality will be allowed.
Consistency and scalability
Embedding AMP within an email is simple, add a new MIME part with a content type of text/x-amp-html as a descendant of multipart/alternative. It should live alongside the existing text/html or text/plain parts. This ensures that the email message works on all clients.
Increased personalization
AMP for email allows exciting smarter and efficient user engagement, as customers can take action directly within their email such as managing their subscriptions, responding to polls, doodles, and bookings. This is possible because the server retrieves fresh content from remote endpoints, keeping email up to date.
Interactive customer experience
AMP Email's expanding capabilities allows you to take action right inside your Inbox. This includes carousels and accordions, and taking user input on forms and questionnaires.
Improved and smarter services
AMP email allows an attractive option for promotional and subscriber-list emails. Through smarter engagement you can improve customer satisfaction through hassle-free feedback and subscription management all within their inbox.
开始发送 AMP 电子邮件
Pick one of several editors to start creating email without any coding involved.